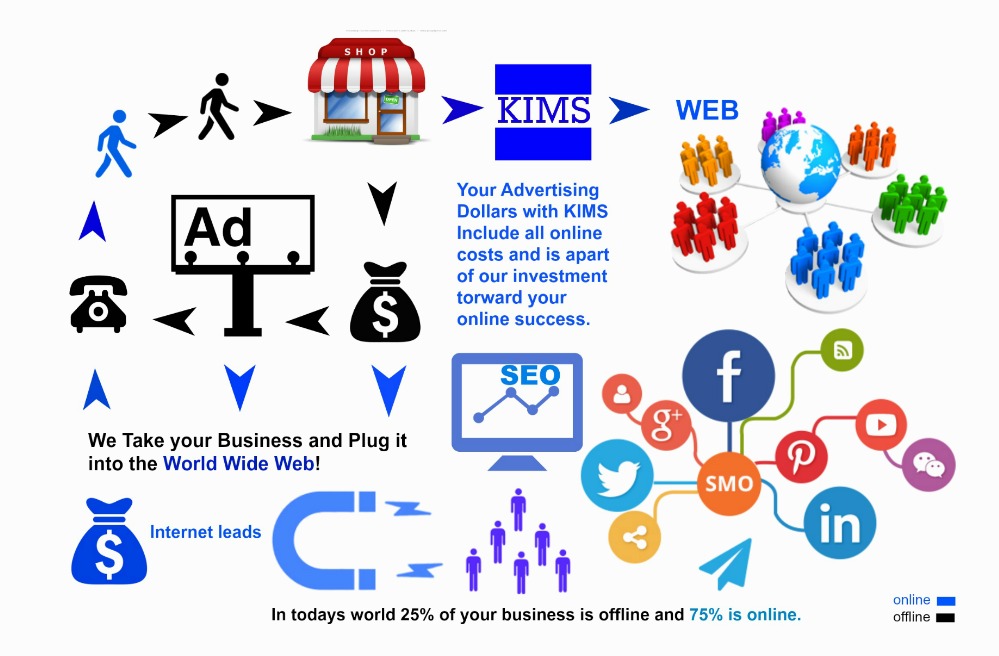 We have a proven track record in Web design & Web development. We specialize in web design & development, search engine optimization, e-Commerce, and online marketing at a cost effective price but with an exceptional design and service. Cost is based on the completion of the work.
OUR EASY THREE STEP CYCLE SYSTEM
-Evaluate the Vision-
-Content Development-
-Upgrades and Management-
Our Domain Name Brokerage Abilities Help Local Businesses Take Over Their Markets, and Even Flip For Profit!
It is breath taking how local search engine optimization has grown from nothing to an essential part of thriving businesses. Within the most recent years Google has taken over 82% of the Search Engine Market, and within that, they have kindly opened the doors for small businesses to be easily discovered. This is why tuning in on local domain names has become super profitable.  Local Pet Groomers, Car Dealers, Doctors, Real Estate Agents, you name it..... Everyone wants to see their searched keywords resulting in their business name being on the front page of Google. KIMS is securing and proving local market share for our clients daily. We look forward to helping you Grow!

Silver Package Example Social Media, Local SEO, and Local Lead Promotions.
Package broken down over a 2 month period.
After the first two months, Your Silver Package will be updated according to online success!
---------------------------------------------------------------------------------------
As a Silver Package client we break down your savings as follows:
First Month
(Silver Client Value $399) (Total Value $943) (Your Savings $544)
Second Month
(Silver Client Value $399) (Total Value $943) (Your Savings $544)
------------------------------------------------------------------------------------------------
Silver package value break down
-Social Media
First Month
Establish  Twitter Account (Value $45.00)
Establish  Crenter's Instagram Account (Value $45.00)
Establish  Facebook Account (Value $45.00)
Second Month
Establish Pinterest Account (Value $45.00)
Establish Google Plus Account (Value $45.00)
Establish YouTube Account (Value $45.00)
(Total Value:$270)
-Graphic Designs 2 Months (Total Value $100.00)
Updates (Value $12.00 per weekly update)x8
(Total Value $96)
(Updates include YouTube videos)
1 Social media and web design Marketing Post Per Week (Value $25.00 per social network)(Total Value $200)
1 professional marketing Photos per week (Value $15.00)(Total Value $120)
Search Engine Optimization Promotional site (KIMS already purches on clients behalf) (Total Value $500.00)
-Digital Maintenance
Resubmit your website weekly to search engines for online traffic boost
Google
Yahoo
Bing
Aol
Entireweb
MSN
(Weekly Value$50.00)Total Value
(Total Value $400)
Establish Accounts to Local SEO directories
Google Plus
FourSquare
Super Pages
Info Group
Localeze
Factual
City Search
Insider Pages
Best Of The Web
Hotfrog
Acxiom
Yelp
YP
(Total Value $200.00)
-----------------------------------------------------------------------------------------------
(Grand Total Value $1,886.00 )
(Grand Total Silver Package Value $798.00)
(Grand Total Savings $1,088)
First Month
(Silver Client Value $399.00) (Total Value $943) (Your Savings $544.00)
Second Month
(Silver Client Value $399.00) (Total Value $943) (Your Savings $544.00)
----------------------------------------------------------------------------------------------